#moneygamesMay 11th, 2022
How Can I Make Side Hustle Money While Keeping My Day Job?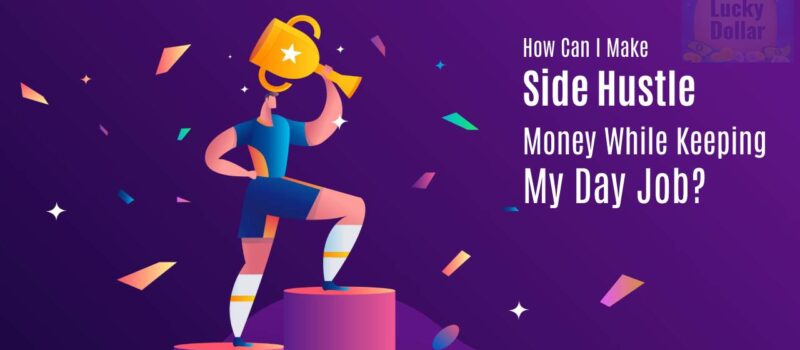 Have you any idea how you can be your own boss?
A cool way to eventually become your own boss is to get started with a side hustle. But you don't have to quit your 9-to-5 job.
With a side hustle, you can have the security of your day job. You can find tons of side hustles online to pad your income such as selling items on eBay, tutoring over Skype, walking dogs, and having a garage sale (to name a few). There's a multitude of side hustles that might capture your interest. They are jobs that you can consider on top of your full-time day job. Side hustles are usually include something that you're passionate about.
What if we told you that you could make a few extra dollars simply by playing real money games in your spare time?
Sounds a bit peculiar but true! Mobile game apps are really picking up pace considering the current gig economy. A lot of people in the US have been extensively relying on real money game apps for they not only make them some bucks in their spare time, but they also brighten up their day. To play real money games, what you need is a cash game app you can download without a second thought about its legitimacy.
Lucky Dollar is one such fantastic money-earning app that can make you a few extra dollars right from the comfort of your home.
Related Post :  Scratch and Win – A Great Side Hustle You Can Earn With Now
In this blog, we've got you covered.
Let's dive in then, shall we?
The days when making money has never been easier are long gone. With the constant advancement in technology, people are now beginning to reap the benefits in the form of real money. And Lucky Dollar – the best money-making app – has made it possible to win big with the least amount of effort. We understand what it's like playing win real money games on an app claiming to be legit, but does not deliver what a user wins.
For all of us at Lucky Dollar, our users come first. We go the extra mile just to serve them better than before. Our expert app creators endeavor to make necessary modifications to the app so they can get experience something exciting our previous versions lacked. We deliver what we commit and this is the reason why we have a loyal fan base. Our commitment to users is what has made us a leading real money game app in the United States.
Why should I zero in on Lucky Dollar, when there are countless money-making apps available?
Lucky Dollar is not just another real money-making app. We would rather consider it the greatest invention that has filled people's lives with excitement in every sense of the word. Believe us when we say that this cash game app for real money games is something they have been longing for.
Maybe the people who had their fair share of unpleasant experiences (of course, unwantedly!) with scam apps were impatient enough to find an app they could rely on. That's where we come to their rescue, offering them loads of cool stuff they could not grab in devious cash game apps.
We pride ourselves to have built such a magnificent money-making app through which you can expect fun, cash, and excitement galore. We swear that you won't even think of switching to some other cash game app once you have gotten the hang of the app as cool and legit as Lucky Dollar. And there is a plethora of reasons supporting the statement why Lucky Dollar is a must-have.
Lucky Dollar – An amazing way to make side hustle money while keeping your day job!
One of the coolest things about playing win real money games on Lucky Dollar is that you don't even have to think of quitting your day job. Keep making money through the app while enjoying the safety of a job that lets you make both ends or makes you pay for the essentials. With the Lucky Dollar app on your cell phone, you would not become a millennial millionaire, but you will achieve financial independence.
Since we're a legitimate and credible real money game app, it's our privilege to keep you aware of scam apps. There are many apps out there that try to rip the users off their hard-earned money in the form of registration fee. Be wary of such unscrupulous apps as they can make you lose your valuable time and not to mention, your money even if it's a buck or two.
What if Lucky Dollar turns out to be a scam? What am I supposed to do?
Well, these are the questions people usually have when it comes to putting their trust in a real money game app they might not have heard of. Worry not! Lucky Dollar is a legitimate money-earning app that has been in existence for years.
The sole reason to download a cash game app is to earn real cash on the side. This is the reason why researching first (about the app) is of utmost importance. Visit the Google Play Store so you can be sure about the app's reliability.
Check Ratings and Read Reviews for they are the most indispensable entities that will help you make the right choice. Now narrow down your options so you can compare their ratings and reviews. Then settle for the one you think would make you real money, offering the most rewarding experience.
Lucky Dollar app creators come up with innovative ways to offer something cool to the users playing real money games now and then. That is the reason why we release new versions to make the gaming experience pleasant enough to stick to our app for years to come.
Related Post : Avoid Quitting Your Day Job! Play Cash Games to Earn a Little Extra Cash
We rework on our graphics and features so we can make them as appealing as possible for our users. Also, we offer unmatched support to all of our users if they require any assistance with respect to cash out. To make the users earn more, we let them invite their friends and family so their kith and kin can get the most out of the Lucky Dollar app. We offer our users a cash bonus of $1 for every person they refer.
Get the Lucky Dollar app from Google Play Store today!