#moneygamesJuly 1st, 2022
Real Cash Apps – Start your FOURTH with a Bang!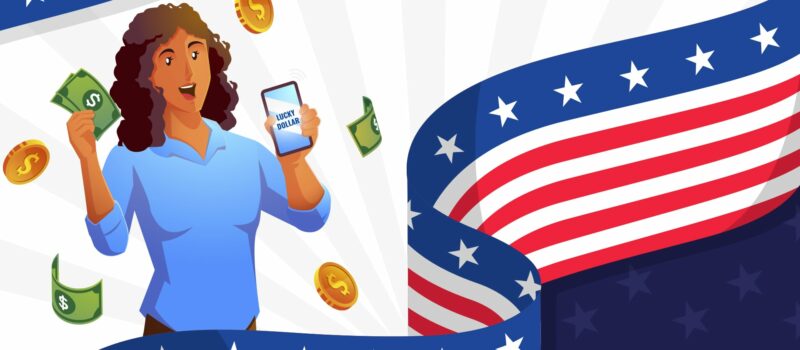 Hey, it's that time of the year again when you celebrate independence with fireworks. Fireworks – the most iconic symbol of the Fourth of July! When it comes to celebrations, every American lays emphasis on a few red, white, and blue explosions in the sky at the end of the night. People in the United States take immense pride in shooting fireworks into the night sky every July 4th. Why not add charm to your holiday season with making money using a real cash app? Seize your Fourth of July a week from now!
Just when Americans are about to celebrate their independence day, they stand together to pledge in one voice: "Finally, brothers and sisters, rejoice! Endeavor for full restoration, inspire one another, be of one mind, and live in peace."
Make such a fabulous event one of the most memorable in the company of your kith and kin. This 4th of July get ready to grab an opportunity for making some bucks on the day when the entire United States rejoices in one another.
Make Some Extra Money Using a Real Cash App on Your Smartphone
A smartphone is what you might want to consider to make money through a money-earning app. We are on our devices a lot, right? Would it not make sense to make some bucks for free using your smartphone? It would!
You don't want to waste your time fiddling with your smartphone all day long. Instead you should think about how you can monetize your smartphone usage. Getting paid in your downtime for playing money games on the best money-making app is your best bet.
At Lucky Dollar – the best money-making app – we understand what it is like making some bucks in your downtime. We value all our users and want them to remain content every time they play money games. As you know that 4th of July (Independence Day) is just around the corner, we've got special offers for you to grab. Celebrate your 'FREEDOM' with our craziest offers and earn 2X Coins.
A mobile app is what you need to make some bucks with easy-to-play top money earning games. Leading money-earning apps are free to download and they are compatible with Android devices. They allow the users to take advantage of a quick, hassle-free cash out process.
Apps that can Earn You Cash?
We agree it sounds too good to be true. But cash game apps do exist. Playing money games on these apps won't make you a millionaire. Yet they can make you some money in your spare time. Look for the right money-earning app you can download from the play store. Once you do that, it is time to let the good times roll.
Playing scratch off games on a trusted app like Lucky Dollar will be a smart move you can make in your favor. Making some bucks with no investment can be seen as a great option – you have got nothing to lose. We understand people hook themselves on their devices. But are they aware of the fact that a real cash app can make them some quick cash for free?
Why Do I Need a Real Money Game App?
With the Lucky Dollar app on your smartphone, you can look forward to engaging yourself in fun games that will make you some bucks with no effort needed. Playing easy scratch-off money games on our awesome app is like taking the plunge into the pool of endless fun and real money. One of the coolest things about these games act as a stress buster. Playing top money earning games can help you ease day long stress you might have been experiencing at the workplace.
Let's find out why getting a cash game app like Lucky Dollar is a smart move.
1) Earn Real Cash for Free
When you get the best real cash app, you play money-earning games and get to make some bucks with zero investment. A legitimate real money game app lets you soak up the fun under the sun while earning free cash. Unlike other cash game apps, credible money-making apps do not charge you a registration fee.
2) Quick, Hassle-free Cash Out
Won real money? That's great! Withdraw your earnings via PayPal with a quick, hassle-free cash out process. Genuine cash game apps offer a seamless cash out experience to their users, letting them receive their earnings within a week.
3) Easy Registration
Use your credentials so you can easily register on the app. Trusted and renowned real money-earning apps make sure that their users experience hassle-free registration. Once you register successfully on the app, you can begin to enjoy top money earning games.
4) Awesome Support
Having a hard time cashing out your earnings? Not able to login to the cash game app? No matter the problem, the expert team will offer you awesome support. So you can experience the best of the real money-earning app.
Download our app from the Play Store. Aside from winning real money, you can expect a bunch of exciting stuff coming your way. Playing cash games on Lucky Dollar will add charm to your day. Once you get the hang of the app, you won't even think of switching to some other app.
The Final Say
The FOURTH OF JULY is around the corner! Get the best real money game app and earn a little extra cash on the side. Legit money-making apps allow you to make free money while having fun. Make sure you conduct your research before making a decision.